Special Offers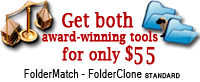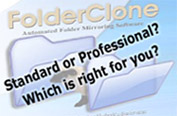 Salty Brine News
Salty Brine Software is proud to announce that ABB,Inc. has licensed FolderClone for all of their sites in the US, Canada and Mexico.

---
Borland recommends using FolderClone to backup StarTeam.

---
Salty Brine Software isproud to announce that GlaxoSmithKline has chosen FolderClone as their desktop to server replication solution for all of their sites worldwide.

---
GE Healthcare has licensed FolderClone for use in its Image cast PACS product line

---
FolderClone has been chosen as the Best Product in the "Synchronization and Backup" category by the Dutch Computer Magazine:
Personal Computer Magazine.

clone: 'klOn
1. (verb) : to make anidentical copy of
2. (noun): one that appears to be a copy of an original form
Looking for an easy way to backup your data? FolderClone lets you make an identical copy of a folder tree from one drive to another. It can be used to synchronize files between a desktop computer and a laptop, or replicate data between a workstation and a server. It can also be used to copy important files from your hard drive to another location. (ZIP drive, CD-RW,removable hard disk, network drives, local hard disk)

FolderClone's 'set it and forget it' functioning means that after you set up a clone task the first time, it will be performed automatically at predefined intervals. Your important files will always be backed up to another location. Your folder trees will always remain synced. You never need to think about this again! One less thing for you to worry about in this hectic world.

Check out what other users have been saying about FolderClone. If you like what you read, try it yourself for 30 days at no cost. You read that correctly- keep your data in sync for FREE for the next 30 days. What have you got lose? Click here to download the latest version of FolderClone.

Thank you for taking the time to evaluate FolderClone. We appreciate your business.
more info
why backup
Easy to use, Interface for simple creation and maintenance of synchronization tasks.
Safely backup photos, emails, contacts, and documents.
One-to-many synchronization is supported. One Source folder may be synchronized with multiple Target folders.

Multiple Copy Options: Including the ability to maintain the source file's create time stamp, and a Safe Copy option which ensures that the target file is not deleted unless the copy operation is successful.

Four Delete Options: Delete Permanently, Send To Recycle Bin, Do Not Delete, and Secure Delete. The Secure Delete option wipes the data from the disk so that the file can not be restored by an undelete utility. and Much more!
Testimonial:
Richard's computer crashed.
Fortunely, he had been backing up using FolderClone. Here is what he had to say...
"Folderclone was wonderful. The computer I was copying files to from the server merely needed it's name changed on the network and immediately became my server. Hardly anyhassle at all. Sadly, the real frustration has been getting the oldserver back up again and getting all the files re-established. I amreally pleased I found your product."

R. Kilburn
Looking for a file/folder comparison tool? Check out FolderMatch
Looking to compare web pages? Check out HTML Match
Looking for a duplicate file finder? Check out Doppelganger.
Looking to synchronize Outlook on two computers? Check out SynchPST.
Save 25% by using coupon code 1Jd4kL2uHs9W
What Users Had To Say
"You people never disappoint. You've thought of everything. Of all the software I have purchased, I think this is my favorite.
It does EVERYTHING I need and support response has been 100%. Thanks!"

I bench-marked FolderClone against several other file sync software packages and it kicked their @ss, one being the more expensive PeerSync. Just thought you would like to know. "
Sherri Holloway
Systems Administrator
www.oxygen.com
Read how
FolderClone saved Jim's bacon
...and other great feedback we have received from our users.
This program is excellent

C|net user reviewer: jos598

This program really works incredibly well. ... I was able to backup over the network quite quickly and the backup was able to include hidden files and it was a full sync. I think this program is awesome for those of us who don't want to do a full system image but would rather just do a backup of the data that we need. It works just great to backup my documents, outlook PST, game data, etc. 2 thumbs up from me!!






Functional, Fast, EASY and Accurate

C|net user reviewer: Oystercracker1
FolderClone is a breeze to set up. It copies files, documents and folders to as many drives or storage devices as necessary. I tested 6 other programs that promised to do what FolderClone does and none came close to FolderClone for its user friendliness. Some of the other programs did not perform as promised. This program will save me tons of time.Their customer service is fast to respond to questions too. I am sold on this product.